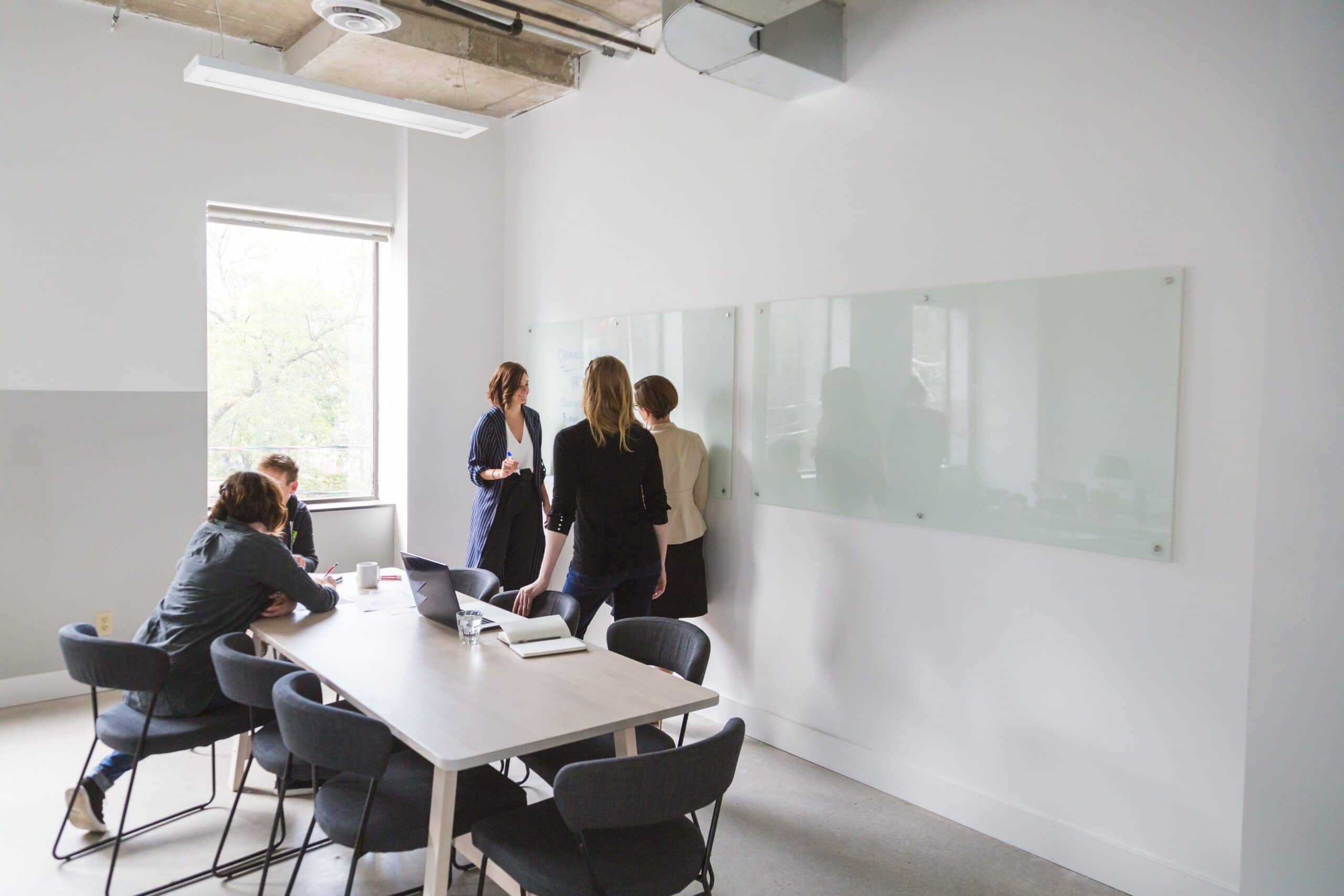 We've all hit a creative slump before. Whether you call it writers' block, a brain freeze, or a roadblock, when it happens, you're stuck fast.
But in the business world, idea generation is vital to continue growing and innovating within your company. Problem-solving is also the only way to cope when day-to-day challenges crop up. When you reach a stuck point it's time to employ your most creative ideation techniques.
What is creative ideation in the first place? What is moodling? How will teamwork help you overcome your slump (and as CEO, what if you can't rely on teamwork to solve the bigger problems)? And what are other creative ideation techniques to help you come up with fresh new ideas?
To answer these questions, we have to start by understanding creativity.
Why is Creativity Often So Hard?
If you've struggled to come up with new approaches to a business problem, chances are you've asked yourself the question more than once: why is it so hard to be creative?
The noted economist John Maynard Keynes stated, "The difficulty lies not so much in developing new ideas as in escaping from old ones." We often use creative ideation techniques to start the process of escaping from our old ideas because frankly, innovative thinking is hard.
In the 1920's Jean Piaget, a well-known psychologist theorized on how we use schemas to sort and categorize our world, easing the burden of absorbing the stimuli around us. We quickly draw conclusions within our schema (in other words, how we see the world working).
Schemas help us in many ways. We can quickly walk into a situation and draw fast conclusions about the environment. Our brains tap into our prior experience to assess the situation and decode what's going on, they lead us to recognize aspects of the scenario we've encountered before. They also cause us to overlook or ignore aspects that fall outside of our recognition.
Whether you call it a schema or your operating paradigm, it's a viewpoint that comes at a cost. These fast conclusions and judgments are hard to change. They lead us to stereotypes. Because we rely on our viewpoints so readily, we often miss information and new opportunities as we fight to hold our world within a comfortable schema. Hence, this myopic view results in the difficulty we experience when it comes to generating innovative ideas. We can't think outside the box if we're only aware of what's inside.
Can we adjust our schema? Of course, but it takes work and deliberate conscientious effort because our schemas are often very deeply ingrained in our thinking. Through learning, exploring, and seeking new experience, we will eventually adjust our schemas. This is often why collaborating and other creative ideation techniques are so valuable when we're troubleshooting a problem. Working with others helps us broaden our viewpoint.
Team Participation for New Ideas
If you want to generate new ideas and spur creative thinking, involving multiple collaborators and team members is often a good approach. If your office culture fosters an atmosphere of sharing and working together, this may already be part of your process. If not, you may find you need to open the floor to new ideas.
The classic ideation process is usually approached as a group activity. Active participation is encouraged by operating under the rule of no criticism. Every idea is considered "good" until the evaluation or selection phase.
To shake people loose from their schema, the creative ideation techniques include engaging different senses such as:
– Verbal/auditory (brainstorming)
– Physical participation (role play, kinesthetics)
– Visual (storyboarding, mind mapping)
– Writing (brainwriting, free writing)
– …Or actively challenging the status quo with pure brain games.
These brain games challenge participants to think differently by making new associations, questioning assumptions, or using data points to generate a new perspective.
Group ideation techniques are effective in a wide range of organizations. Nearly any industry can implement creative ideation techniques to enhance problem-solving and encourage innovation. The group ideation techniques result in many benefits such as:
– Active and free-flowing stimulation and association.
– Encouraging individuals to build on the ideas of others.
– Camaraderie and team building.
– Participation of multiple disciplines to broaden perspectives.
– A high volume of generated ideas to draw from in the next phase.
Of course, like any business practice, there are drawbacks to group creative ideation techniques. It's important to be aware of these challenges as a leader, and it's particularly important to keep these pitfalls in mind as you form groups and plan your approach:
– Leaders and more extroverted participants directly or indirectly (and oftentimes unintentionally) influence the flow of ideas.
– Groupthink might happen despite or because of the group ideation technique.
– The strength of the facilitator might influence the process and the outcome.
– The stimuli in the technique does not suit all individuals. (For example, I find it hard to stimulate my ideas with a mind mapping technique.)
Consider offering the opportunity for team members to participate using a self-selected technique individually as well as in the group. In some situations, depending on group dynamics, this customized participation may bring additional ideas to light.
Although there are hundreds of variations of creative ideation techniques, I found "18 Killer Idea Generation Techniques" to be a helpful resource. The post features an overview and explanation of each of the creative ideation techniques.
Generating Creative Ideation at the CEO Level
Oftentimes, it isn't wise for the CEO to participate in the group ideation, as his or her participation influences outcomes. Additionally, many of the problems you need to solve as the company leader don't fit the "public" forum of ideation. Those problems are often more challenging to resolve and require time and dedication. As the head of the company, the question becomes when do you even have TIME to think about creative problem-solving?
As CEO, you're not only in charge of the day-to-day operations of the business. You're constantly working on the business, as well as in the business. You're addressing any number of mandates that you, your stakeholders, and the business book of the month espouses. Often expounding on this, busyness is viewed as a badge of honor. Whether this drive is rooted in a Protestant work ethic or has sprouted more recently, we often compete on the state of busyness.
Busyness is rampant in leadership and I personally admit I operated in that mode during much of my career. I would jealously read an article by Richard Branson or see a picture of him enjoying sailing and think that's NOT my life. I was always busy and didn't have time to …. (you fill in the blank). It took me quite a while to internalize the concept that busy doesn't necessarily mean productive or effective. In fact, this constant state of frenzy probably meant I had other failings in delegation, managing my time, and over-committing. Constant busyness limits our time for creative ideation techniques or innovative approaches to problem-solving.
It's far more beneficial if we approach our business not with an action plan but with moodling. Now admittedly, when I first came across the term, I thought it was a misspelling of "noodling" — but both words capture "go to" methodologies for creative ideation and problem-solving at the executive level. Escaping your old ideas and generating new methodologies are easier if you apply both moodling AND noodling.
What is Moodling and How Does It Boost Creativity?
The term moodling was coined in 1938 by author Brenda Ueland to encourage the use of idleness to spark creativity, particularly in writing, but we can apply it to business as well. In fact, moodling is an excellent creative ideation technique, particularly when employed at the executive level.
Moodling involves idly engaging in a pleasurable activity such as sitting on the porch or taking a hike and letting your mind wander. It is typically a solitary creative activity, so you're unlikely to find a moodling group on MeetUp. Moodling requires you to put aside distractions, be in the moment, unfocused and open for daydreaming. Moodling has no mission or clear cut objective and may not produce any flashes of brilliance.
David Robinson in his article "The Art of Moodling" states, "Moodling (is) constructive idleness. This quiet looking and thinking opens the imagination; we encourage ideas to come to us by being available and receptive. What a wonderful realization! Not only is moodling enjoyable in itself, but it gives us a return in increased creativity—better ideas, whether we translate them into writing, … inventions, or business decisions."
For some of us, the concept of moodling may prove more challenging and come less naturally. It may, in fact even take deliberate work for us to put down our phone, turn off the podcast, set aside the stack of reading and paperwork, and mute our inbox. Moodling is the counterfoil to the state of busyness many of us embrace so readily.
Sitting idly and allowing myself to daydream hasn't been in my skillset since childhood… Ah, the memories of messing up my Grandpa's hayfield, the smell of the hay and the warm sunshine… oh, where was I?
With meaning and value in idleness, maybe now I can stop being jealous of Richard Branson and start following his example as an excellent moodler.
What is Noodling and How Does it Differ from Moodling?
Noodling, on the other hand, is more in my think-style. Chances are, you're familiar with the term or have heard someone say they're "noodling something over."
The term noodling is derived from the slang use of noodle to describe a head or brain. The creative ideation technique of noodling is slightly different from its counterpart, moodling. Noodling is a more active ideation and problem solving technique. It's a more focused and deliberate approach.
Noodling may mean pondering your problem in an idle or speculative manner or examining the issue from a different perspective. In moodling, you let your mind wander aimlessly and you may or may not stumble on something amazing. In noodling, you loosely focus on a specific idea, concept, or conundrum. I often noodle by putting the problem into my subconscious letting it percolate under the surface, sleeping on it, or giving it a tickle over a couple of days until an answer presents itself.
As you noodle on a problem, keep in mind framing the problem is a significant part of solving it. For example, if you frame a sales growth problem as needing to add another product, you may miss an opportunity for a joint venture offering expansion in another market.
Other Creative Ideation Techniques for Executives
If you have an issue you're trying to resolve at the executive level, it may not be appropriate fodder for your team brainstorming session. This is often why the job of CEO or President is so isolating and challenging.
Look to your network for assistance when you need to think outside the box. After moodling or noodling on a problem, it's time to bounce it off a colleague, advisor, or coach. There's a tendency for CEOs to feel that since the "buck stops here," you can't ask for help or discuss challenges with others comfortably. But the insights and perspective from someone outside the situation can prove invaluable. Look for executive roundtables, entrepreneurial affinity groups, or business leadership networks where you tap into outside resources and creative feedback.
It may also be helpful to draw on your previous experience. Look at the way you've creatively approached problems in the past. Could any of the methodologies work on your current issue? The problem and solution may differ, but the best approach could be similar.
Ideation and problem solving simply means coming up with ideas and throwing them at the wall to see what sticks. Think of the wildest solution and as many different approaches as possible to start. Amass a collection of ideas and then, in the next phase of problem solving, you will narrow it down and decide what's a plausible, practical, and even innovative answer to your issue.
---
Featured image and all post images licensed via Burst.